Trump Ride & Rally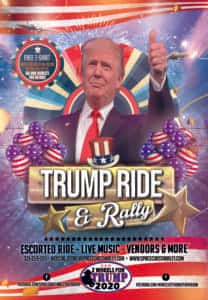 Register early for a FREE T-shirt!!
Join us in a Ride for President Trump. Event Kicks off at Miracle City Harley-Davidson. Riders will be escorted for an after party at Space Coast Harley-Davidson. Live music, Food, Vendors, Beer and you never know who will be on site to speak to us and Rally us around the cause for President Trump 2020
Event Details:
Cost: $15 / $20 Day of Event
Ride Departure & Registration: 9am at
American Police Hall of Fame & Museum
6350 Horizon Dr. Titusville FL 32780
KSU: 11am > Escorted ride to Space Coast Harley-Davidson
Arrive: After party at Space Coast until 5pm.